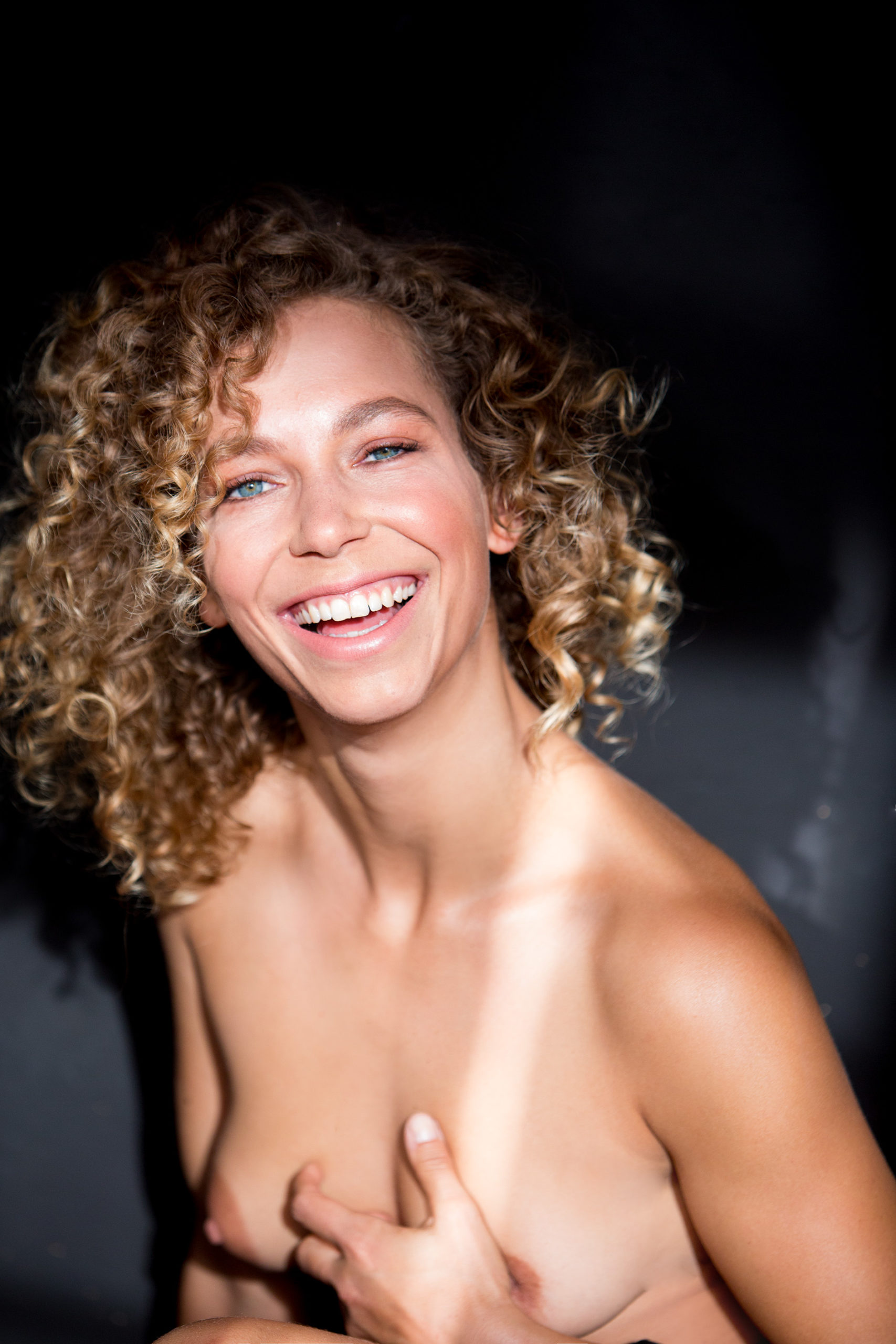 Leah Féline
Dancer
Languages: German, English, Spanish
Height: 168 cm
Shoes: 38
Figure: athletic
Skin tone: bronze
Hair colour: golden blonde, natural curls (Undercut)
Eye colour: fancy blue diamonds
Perfume: Bleu de Chanel
Favourite drink: mojito
Favourite meal: fries before guys!
Favourite restaurant:  Kopps
You have to be up to Leah Féline. Dazzling diamond eyes, untamed golden locks, radiant like a floodlight. And that body! Leah is a dancer, who daily strengthens her supple muscles in the dance studio while she becomes one with the beat. Her allure is pure sex – not a ballet elf, but rather a wild cat, her vitality originating in the centre of her femininity: vigorous like a tigress, affectionate like a female panther, explosive like a cheetah – yet, like all felines, she is ravishingly cheerful. Leah enjoys the carelessness rooted in a youth characterized by unlimited freedom. She can be exuberant, daring and even quite flirtatious, as long as she wants. With this epitome of a lover you can playfully romp about and gauge your strength. Just to be clear about one thing: Leah cannot be held responsible in case you have to lick your wounds after playing with her. Don't be square, because this cat woman will never forgive you! It is her hedonist rigour that safeguards this bubbly creature's wild innocence.
Leah about herself.
Play with me! Sure, you may even caress me. But be careful: What is purring underneath your hands is the body of an alpha lioness that leads a whole dance company. I am the leader type and would rather perish than submissively obey orders. So just don't try to tame me! I am a tramp, a wild child. How much I enjoy having the wonderful weapon that is my body! In a playful way, I am exploring the mystery of my power. Nothing can hold me back, except for Berlin. That is my city. Here, I unfold my open nature: shameless, bright and always without remorse. Of course: feline predators don't know remorse; they know hunger. Who is the prey here and who is the big game hunter? I know how to attack just as fast as to withdraw, lurking: cheerful, the dance of teasing and seducing, all in the ecstasy of rhythm and exhaustion. Come play with me !