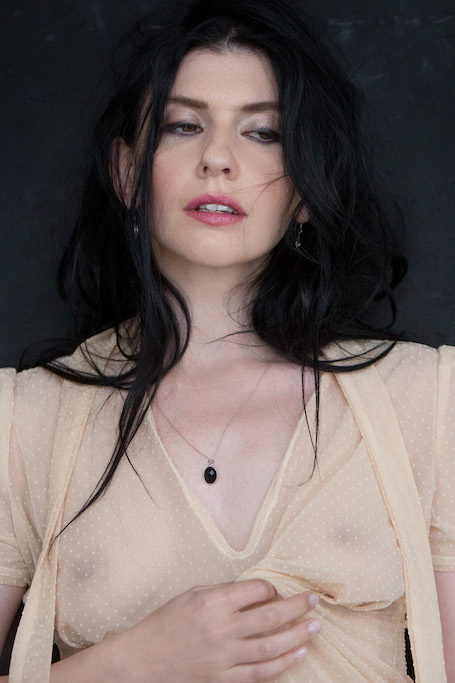 Dahlia Nyx
Performance artist
Languages: German, English
Height: 157
Shoe size: 38
Figure: small and exciting
Skin tone: basement pallor
Eye colour: tiger eye
Hair colour: night black
Perfume: Serge Lutens Fils de joie
Favourite drink: Chablis les Clos
Favourite food: solanaceae
Favorite Restaurant: Cookies Cream
A hot shadow. Dahlia Nyx is in the room. Subtle and persistent like the sexy S-curves of the fishing hook on fine sinew, temptation pulls you down and Dahlia is the bait. Her sensual body, this forsakenness from a siren's dream. The sultry melancholy of her casual movements, and then the look, the tempting gaze of those strangely beautiful eyes: veiled under silky eyelashes – animal eyes, doe eyes. Sparkling, aggressive – dryad eyes. Ecstatically veiled, in innocent, helpless lust: the eyes of a true nymphomaniac. This infinitely vicious fuck of a prostitute absorbs the world of gallantry with her novice curiosity. The nymphomaniac nymph finds her destiny, sleepwalking along the winding, red-light red illuminated path. Her innate lasciviousness, the promiscuity of her soul, receptive with a hundred antennae to the vibrations of wickedness… Dahlia Nyx is called to be a whore. Is the hook in your flesh?
Dahlia Nyx about herself.
You need to know I don't have a story. No family, no childhood. I'm an orphan. My past is dead. It is the darkness from which I came to meet you. The darkness in which I am when I am alone, absent… when I'm not on fire.
I wish I had grown up by the sea, or by a lake in the forest. I feel at home in David Lynch films. The great binary opposition of my life is the one between double standards and self-determination. There is no alternative to rebellion, and attack is the best defence. I attack reality with art, with psychedelic rock and punk, with nudity and table dance, with my performance in the black eye of the camera, reciprocal hypnosis, I am the white rabbit, I am the snake. I am dominatrix, I am student and muse, and yet I want nothing more than to play whore, to be whore: real creation, with the means of play. The game is the drug, and sex is the stage on which I am exposed. When I am on fire.